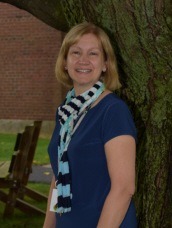 Joyce LaPointe
1 Grade Teacher
Employed Since: 8/1/2014
7 Years Experience At School
Mrs. LaPointe has her Masters in Elementary Education from Lesley University and a B.A. in American Studies from Franklin Pierce University. She is also NH Certified in Elementary Education (K-6). Mrs. LaPointe has 15 years of teaching experience in grades 2nd and 5th as well as a Title I Reading and Math Teacher.
She loves working at Sacred Heart School because it gives her the opportunity to openly share her faith with those students who want to know more about the Catholic religion while fostering the academic, physical and emotional needs of each student as well. She has served as the Outreach Coordinator of her parish, and has taught in the Religious Education and Youth Ministry Programs there. She loves teaching to the whole child and providing a well-rounded education for them.
Some of her interests when she's not teaching include bicycle riding, kayaking, skiing, and golfing. She loves to travel to new places and hopes to make it back to the Holy Land, Italy, and France.