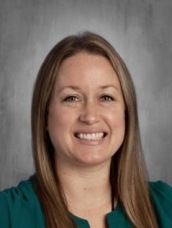 Megan Weand
Grade 7, 8 Language Arts Teacher
Employed Since: 8/25/2004
17 Years Experience At School
Degrees
High school

Woodstock Union H S. Woodstock, Vermont

(2000)

College

University of Vermont

(2004)
Mrs. Weand has her B.A. in English and is NH Certified in English grades 5-12.
She chooses to work in a Catholic school to be able to express and share her love for God freely. The sense of unity and family that she has found at Sacred Heart School is what keeps her here!
Mrs. Weand's favorite pastime is spending time with her husband and their three young daughters. She also does lots of reading and enjoys going to the beach in the summer and skiing in Vermont in the winter.