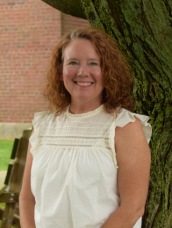 Renee Therrien
Pre-K 4/5 Teacher
Employed Since: 8/21/2017
4 Years Experience At School
Miss Therrien has her B.S. in Early Childhood Education from Worcester State College and her Masters in Curriculum and Instruction from University of Phoenix. She is also dual-certified in Early Childhood Education and Special Education for the state of New Hampshire.
Miss Therrien fondly remembers her own Catholic school elementary education and can honestly say she feels comfortable, happy and appreciated at Sacred Heart School. She feels the school is a tight-knit community of teachers, students, parents, administrator and staff and that the family atmosphere in a Catholic school is like no other! We all have that one thing that binds us together…our faith, and she feels this shows in the way we all truly care about each other.
When she is not teaching she loves to ski, snow shoe, go hiking with her dogs and try different recipes. In the summer she loves to swim, kayak, garden and read on the deck. Miss Therrien is from Connecticut, so she spends many weekends there visiting her parents, family and friends.