We LOVE teaching PreK!
Meet our teachers:
Mrs. Erin LaRose - PreK 4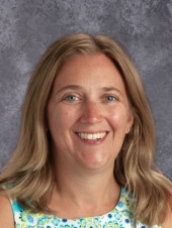 Ms. Elizabeth Cote - PreK3
---
One Day in PreK
Each day in Pre-K we gather for our morning meeting which includes learning the days of the week, months of the year, colors, shapes, and counting. We work one on one with the teachers, as well as in small groups. We play in centers, read stories, work on our letters and numbers, practice our scissor skills and pencil grip, have stories read to us and listen to books on tape. We have a great time in Pre-K and have new adventures every day!
Reading Curriculum
Happily Ever After by Zaner-Bloser Educational Publishers
Reading instruction works best when it keeps children engaged in writing, listening and speaking. Detailed instruction supports
children at every step. This careful, systematic approach makes all children successful, task by task, and gives them the strongest possible foundation for learning to read. Children learn through visual, auditory, and kinesthetic ways. Happily Ever After includes illustrated stories, lively discussions, and a variety of hands-on activities, group games, and art projects. Throughout the program, clear instruction builds success step-by-step, giving children confidence as they develop the skills they need to learn to read.
The World They Live In
During the Pre-K year the children will learn about the seasons and important holidays such as Thanksgiving, Christmas and Easter. Children are exposed to a wide variety of stories, hands-on activities, and arts and crafts! Assessments are given in October, January and April.
Skills Taught During the PreK Years... to name a few!
· Follow rules and routines
· Take turns and share
· Listen with understanding to directions and conversations
· Identify capital and lowercase letters
· Match capital and lowercase letters
· Write capital letters
· Sort by color, shape, and size
· Recognize and make patterns
· Count objects
· Count to 20
· Recite days of the week, and months of the year
· Rhyming words
· Scissor skills
· Early reading skills
· Four seasons